Desserts For A Bridal Shower
|
Desserts For A Bridal Shower
Every host wants their party food, appetizers, or desserts to be talked about how delicious they are.  Most want the dessert table to be stunning & beautiful.  If your bride has a huge sweet tooth, then why not go all out & dessert her bridal shower up.
Below are all kinds of pastel treats accented with colorful splashes of gold, pink, red, orange, and purple decorations & food inspired by HeartilyWed.  Ice-cream cone table markers wrapped in a shimmer, pastel pink foil.  Placed in the center of the pink-flowered white china plates.  Golden silverware and crystal goblets were used in the place setting.  Name tags handwritten in gold ink.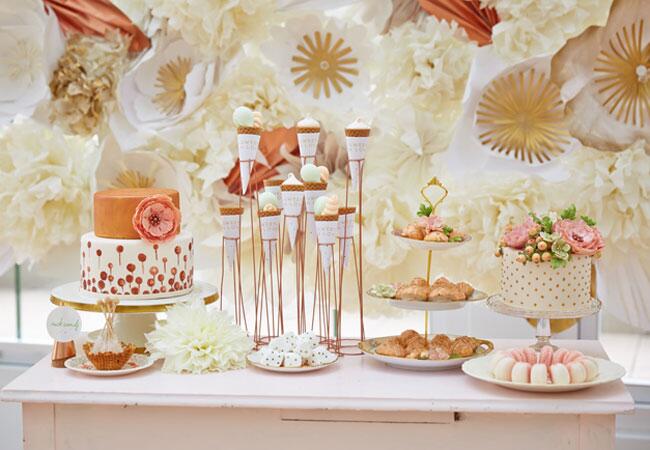 Photo Credit: Wojo Image Photography
Strawberry Gelato scoops which are different than ice cream.  It's creamier and denser.  The flavors just burst in your mouth.  Better than just regular ice cream.  Awesome gelato is made with fresh strawberries and custard.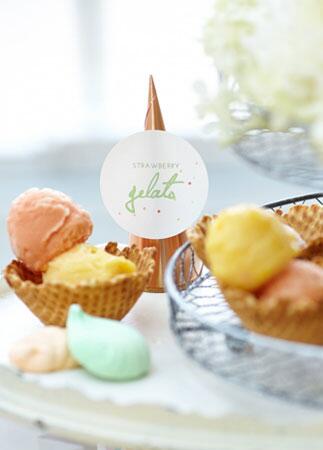 Photo Credit: Wojo Image Photography
Two custom-made decorated cakes balance the dessert table.  Pastel fondant with hand-painted balloons sits on the left-side of the dessert table.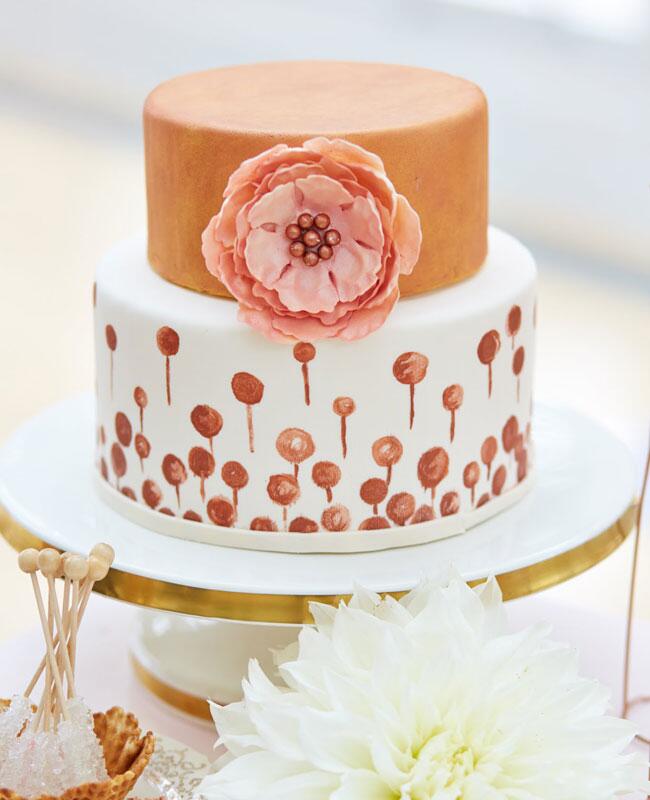 Photo Credit: Wojo Image Photography
Strawberry French Macarons are one of the most popular flavors because the strawberry buttercream filling is so strong.  Macarons require precision and time in baking.  These are dipped in a white chocolate.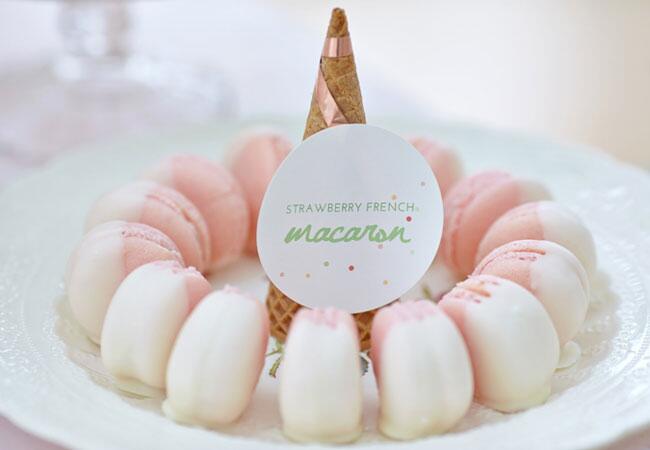 Photo Credit: Wojo Image Photography
The stunning single-tiered polka dotted bridal shower cake topped with amazing sugar flowers by Toni Patisserie……posted by Hannah Warne.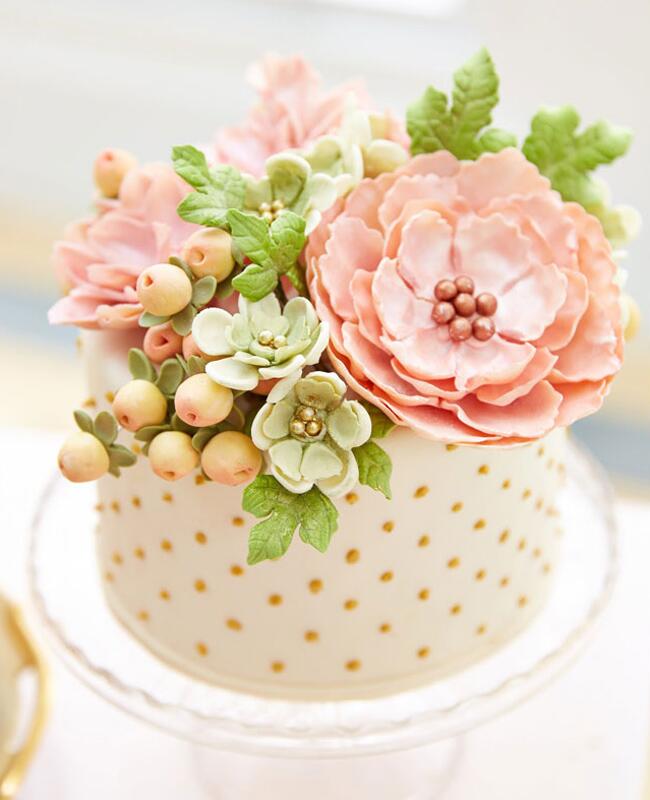 Photo Credit: Wojo Image Photography
A three-tiered tray filled with crunchy waffle gelato cones, pineapple cotton candy, and little meringue cookies.  All delicious, light and airy…….to melt in your mouth.  Pineapple cotton candy can be store brought or spun from a sugar mixture similar to Pina Colada.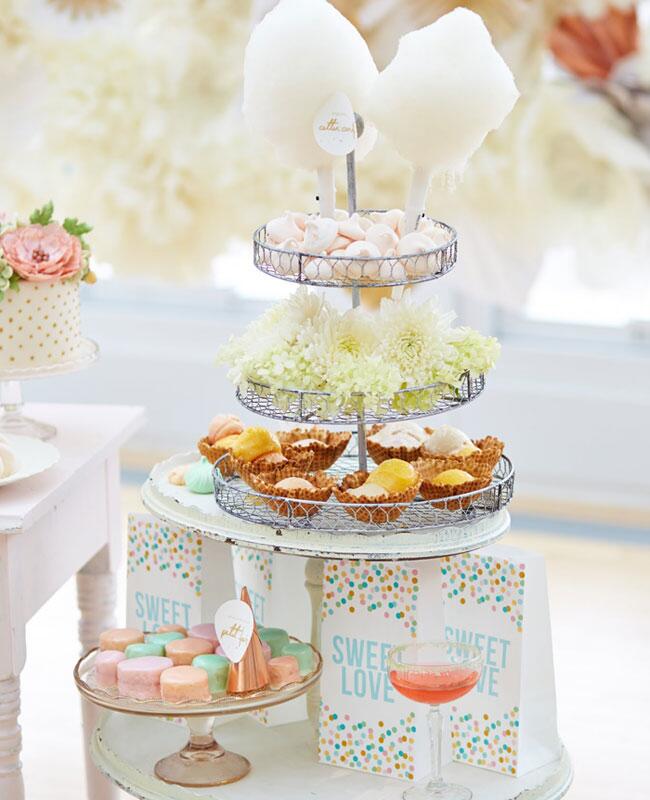 Photo Credit: Wojo Image Photography
Vanilla Raspberry Petit Fours are easy sweet treats which present beautifully on a gold-edged tray.  Pastel colors in different sizes entices your guests to want to taste more than one.  Petit Fours can be made with raspberry preservies, marzipan, fondant, or with buttercream filling.  Petit Fours may be dipped in a pink almond bark for added moisture.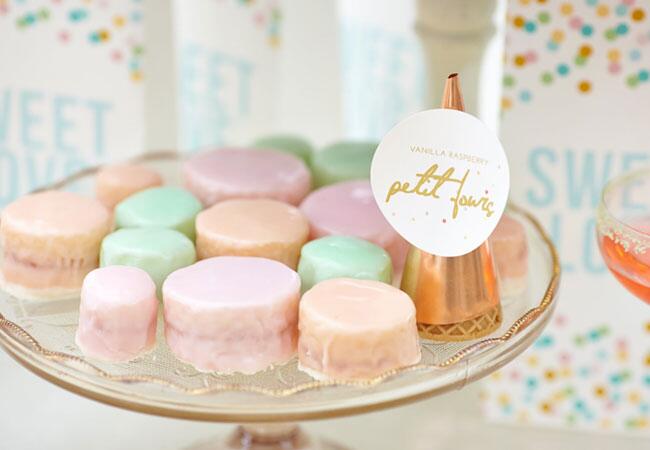 From the album: A Sugar Pop Styled Shoot at The Palm Court in Chicago, Illinois
Special Thanks To The Knot For Posting and Image Screenshots.