6 Fun Bridal Shower Ideas
|
6 Fun Bridal Shower Ideas
Planning a bridal shower can be creative & fun.  Wow your best friend with some of the following 6 Fun Bridal Shower Ideas.
All your guests will be expecting something traditional.  How about adding a little touch of fun & creativity for your party.
1. Decorations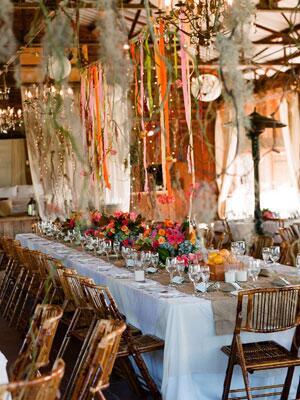 Photo Credit: Elizabeth Messina Photography/The Knot
Forget about decorating your table the old-fashioned, traditional way.  Don't use floral centerpieces.  Instead light the room up with ribbons, Chinese lanterns, balloons,  & streamers.  Hang decorative miniature lights all around the serving and seating area.  Designate a bride's chair with decorative streamers and bright colors.
2. Eats
Photo Credit: Annie McElwain/100 Layer Cake/PopSugar     
Serve fun finger-foods at your bridal shower like macaroons & vegetable platter with dip.  Fruit tray with marshmallow/creme cheese dip.  Doesn't have to be fancy.  Food just has to look inviting and delicious.  Dress up the table with non-matching plates, bowls, & drinking glasses.  What about having a chocolate fountain with all kinds of small cookies, cakes, or fruit to dip with?
3. Toilet Paper Wedding Dress Game
Watch The Girls Playing Toilet Paper The Bride's Dress
Have guests divided into groups & select one person to be a dress-up bride.  Go into separate rooms with 20 minutes to dress up their bride.  Have the toilet paper wedding dresses come out.  Vote on who has the best wedding dress.
4. The Favors
Nail polish is a great go-to. Consider buying a shade that matches one of the bride's wedding colors. Those who plan on getting their nails done for the wedding will appreciate having the color on-hand (literally)…..posted by WomanGettingMarried.
5. Scavenger Hunt
Images: Universal Pictures; Giphy/Bustle.com
Don't just get out the cards and answer questions about what a bride should expect from her groom or name 10 things you want the bride to remember during her honeymoon.  Why not have a Scavenger hunt where guests have to find silly items.  Don't have to leave the party to find them also.
6. Help The Bride
Have everyone at the shower write their name and address on a blank envelope. This will save the bride a lot of time for 'Thank You' notes for the bridal shower and wedding gifts……posted by WomanGettingMarried.
Special Thanks To WomanGettingMarried For Posting & Image Screenshots.
Special Thanks To GirlBossGuerilla For Video & Image Screenshot.