Rustic Coral
|
Simple Elegance
Rustic Coral theme was created from a board called Rustic Tangerine created by SouthernBoundBride.com.  The theme is based on rustic neutral, feminine colours.
Instead of using Tangerine color, the wedding shower table and trim was decorated in coral.  The original rustic theme was incorporated with clothes pegs, heart-shaped place settings, and a hessian sack used as a table runner.  The suggested glass jars changed into tins.  A beautiful clean white linen table cloth spruced up the table.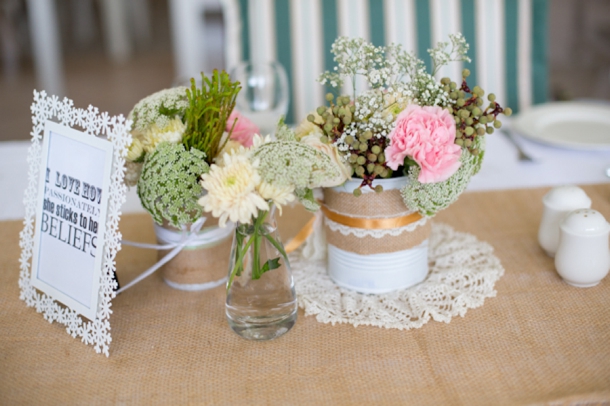 Photo By: Alana Meyer
The flower arrangement is so gorgeous, I couldn't keep my eyes off of it.  All she did is pick some wild flowers and spruce it up with a splash of pinkish color flowers.  You can find the wild flowers in your backyard or woods.  The soft green color adds an elegant visual touch.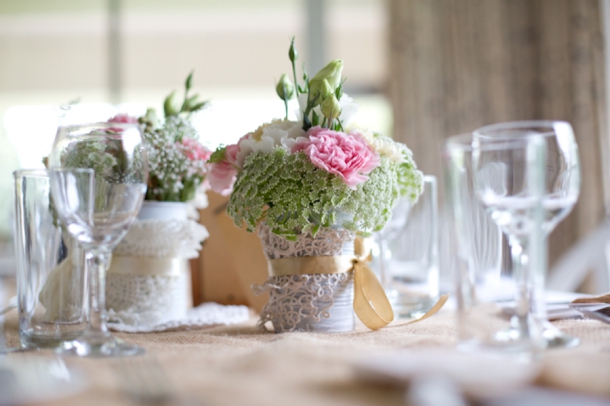 Photo By: Alana Meyer
Read How She Created The Flower Arrangement And Let Me Know What You Think!
…………………..it shows that you don't have to be planning a wedding to get ideas from SBB. I also love the way that Alana and co. really used the space they had – turning an outdoor area into the ultimate girly tea party location. It shows that throwing a party at home can be every bit as pretty as booking a fancy restaurant (and is a lot less hassle for set-up, as I know from personal experience!)………………..
………………………………………collected old tins and jars and painted them white.  This gives everything a clean and fresh look. I wrapped some of the jars with paper doilies and some with vintage crochet dolies, and topped each with a pretty ribbon. I wanted to keep the theme feminine so I chose white, pink and coral colours. I made sure each table arrangement had different heights to create depth and interest…………………….written by Gaby.

Special Thanks To SouthernBrideBound.com For Posting And Screenshots.